Daniel joined about 100 other cyclists on 5-7 September in Normandy, France to raise funds for SSAFA: a British charity which does great work providing support to its forces veterans – and their families – whenever and wherever they need it.
A diverse group of riders from all walks of life shared a memorable experience. Amongst them, was journalist Philippa York, who, as Robert Millar, won both the 'King of the Mountains' at the Tour de France in 1984 and at the Giro d'Italia in 1987, and finished 2nd place overall at both the 1985 and 1986 Vuelta a España. Phenomenal!
Philippa's write-up of the SSAFA ride can be accessed below, and, should you wish, you can find out more about Daniel's ride group – and even sponsor them – at their Virgin Money Giving page here.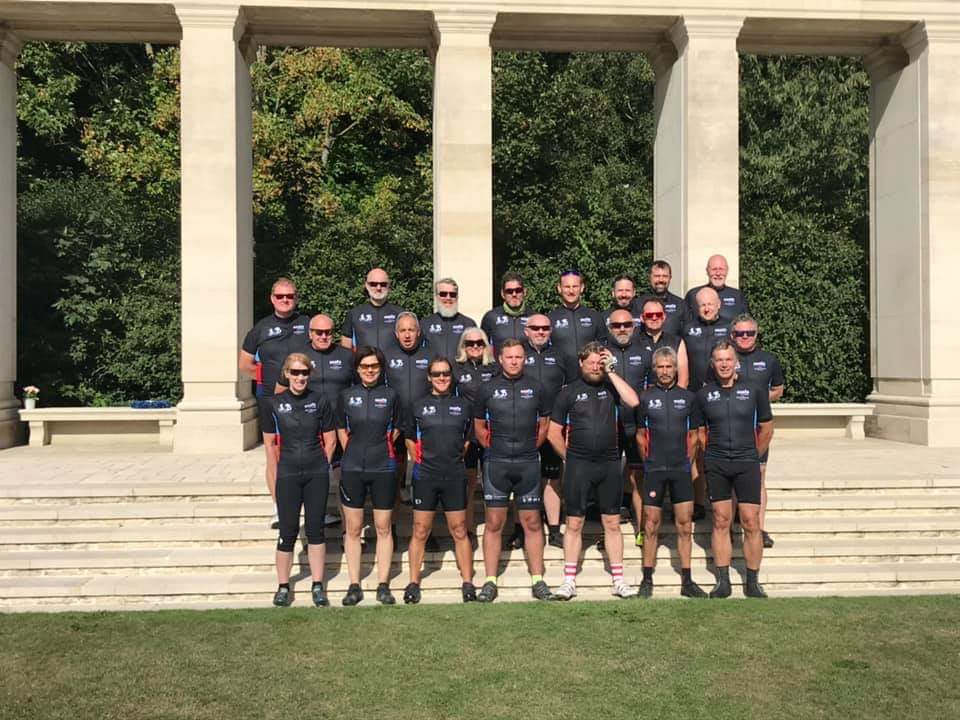 "Hero. Usually someone who runs faster, jumps further, wins bike races, plays a ball game, maybe even sings songs which touch you. Nope, not even close because all of them are trained, coached, tweaked and prepared for their chosen task. They aren't heroes in the true sense of the word, they're individual inspirations. Capable of amazing you by being able to do something you could only dream of and which you probably never will. Nope, the real heroes of this world are the ones who do something that they aren't meant to, that they aren't trained for or expected to do. They perform their moments of heroism without thought for reward, medals, or adulation. The true heroes of this world run towards the danger, forget their own fear, risk themselves for others and in despite of everything they have learned previously.
Standing on a beach in Normandy where the human costs were as huge as the vista out over the English Channel you're reminded of how small, how insignificant the requirements are to be known today for doing something that is called amazing on your favourite social media platform.
Where once chaos, confusion, death and destruction reined there's a silence which is a stark reminder of the life we all enjoy nowadays came at a cost and that came from individuals being heroes for a collective good. Some of them had children, some of them were children. Not old enough to vote or drive, no mobile phone contract in their name or credit card that lets you buy the latest trainers. The fallen of the Normandy battles knew none of that future and yet ours has been shaped by their sacrifice and there is no greater heroism than to give, or risk giving, your life for the benefit of those that you are protecting back home.
The military cemeteries of the region are full of reluctant heroes, they gave so that our world is a safer, fairer place. You may not realise but the armed forces are our insurance policy that hopefully we will never need but when we do and when they suffer or don't come back then it's our duty to look after them and the ones affected by their sacrifices.
Each death, each injury, each year of service touches not just the individual in the uniform but also those of what is now considered their friendship group. That's an almost cheery description of those loved and cherished and yet there's nothing happy or trivial when one of that friends & family unit is visiting a grave or hospital. We need to look after all the people concerned with our Armed Services. They are forever part of the insurance costs. The work that SSAFA does, supporting those that need help and guidance during and after active careers is as important as every medal won, every goal scored or every amazing musical performance.
I was lucky enough to spend some time with truly inspiring individuals during my time visiting the D-Day beaches on the SSAFA charity ride. I came away from it humbled by the enormity of what happened in June 75 years ago, touched by the camaraderie of the group and hopeful for those who are in, or could be in the care of SSAFA. Theirs is truly heroic work for the real heroes of the world".    Philippa York