B2B Software Leadership Dinner, February 2019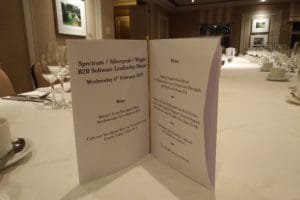 On the evening of 6th February, Spectrum, Silverpeak, the technology investment bank, and Wiggin, the technology law firm, co-hosted a B2B Software Leadership Dinner.
We brought together 20 senior executives and board members for a 'Chatham House rule' discussion on the B2B software landscape during a private dinner in Central London.
The key points of debate and discussion were:
There is significant capital for growth-stage B2B software ventures, although there was a genuine consensus in the room that earlier stage fund raising is more difficult
Driving customer adoption and utilisation is essential: this requires the key implementation departments in the customer's organisation to be aligned
There are national and sectorial differences with regard to the adoption of SaaS versus on premise
SaaS requires good business discipline: having a great product, knowing and spending time with your customers
"SaaS" means different things to different people. It has to do with the revenue model (subscription), the payment terms (payment in advance annually, quarterly, monthly), the delivery (cloud hosted), the code execution (single instance multi-tenant, multi-instance, etc.), the data capture and storage
The KPIs of SaaS companies, like LTV or CAC, are important to know, but there is no unanimous way in which they are precisely calculated. Management should be able to discuss them clearly and put them in their business context
To quote one of our guests at this event:
I just wanted to drop you a line by way of thanks for your hospitality at last night's event. You had a first class group of guests and I found the resultant discussion to be of considerable value. I can only hope that I was able to add to the quality of debate. There are already a few areas of follow-up with some of the people I met there: thank you for being the facilitator of this.
To register your interest in attending future events, please contact Sarah Rush at Spectrum.